Deepak Karki is a man with many hats. Writing for online media, playing music, crafting poems, making videos about village life in the Himalayas are some of his many interests. Multitalented and multifaceted, he is currently pursuing a Bachelor's degree in Journalism and Mass Communication from Delhi University.
An alumnus of Himalayan Inter College (HIC), Chaukori and a recipient of a scholarship from Himalayan Education Foundation (HEF), he believes he is a poet by nature. Let's talk to this media artist and writer to learn about his life and dreams.
Welcome to Himalayan Vaani, Deepak. first tell us about where you come from and your family background:
Hi, I am from Pankhu village near Thal, 20 kms away from Chaukori. My father has retired from the Indian army and currently runs a business. My mother is a teacher in a primary school. I have an elder brother, Naresh Karki, who is a hotelier working in Srinagar, Jammu & Kashmir.
Can you tell us about your education?
I graduated from HIC in 2019. In 2020, I attended a B.A. (honours) course in Journalism and Mass Communication at Dr. Bhimrao Ambedkar College, University of Delhi.
What are your subjects of interest?
New Media, Journalism, Literature (both Hindi and English) and Television.
Why Journalism? Who is your inspiration as a writer?
I never really thought during my school days that I'd opt for journalism one day. For months, I gave it lots of thought. I considered taking a break for one year right after graduating from HIC in Chaukori since continuing my education was a big investment. My passion for writing, video/film making and interacting with new people around me brought me to journalism and today it actually feels good to be here doing the things that I enjoy most.
When it comes to writing, an Instagram poet who goes by the name Rishabh Kohli, has always been my inspiration from school days and I actually wanted to write poems like him. To be honest, without him there would be no words.
Taking time off to decide on a career is an interesting idea. What was your "gap year" like? What did you do?
My "gap year" was also the time of the raging COVID pandemic. Multiple lockdowns caused life to come to a standstill. I worked as a freelance content writer for a tourism company. Unfortunately, it was shut down because of the pandemic and my articles didn't see the light of the day. But it was quite an important experience. It improved my writing skills.
How do you envision your life as a creative person?
I want to be a copywriter, an RJ, a podcaster and a published poet. Eventually I hope to become a journalist. For now, writing is all I dream about doing.
https://www.instagram.com/p/B-vlXlmhqFa/?utm_medium=copy_link
What career would you pursue ideally? And why?
Writing as a full time career sounds excellent to me.
What higher studies/ skills would you like to acquire?
Making films is one of my passions. So I want to hone my filmmaking and editing skills.
As a songwriter I would like to see my own music album hitting the charts.
As a hobby, I want to practise and gain a deeper understanding of how skateboarding works.
What else would you like to achieve in life? your dreams, aspirations, hopes…
I'd like to do everything that makes my parents happy and a little proud.
Where do you live now? How is life these days?
I currently live in Chand Bagh, Delhi, near our college.
I'm a poet by nature. My home in the Himalayan mountains inspires me. I always have something to write about…memories of life in the hills, the beauty of nature and nostalgia for my home and people.
Being away from my beloved place is a pretty intense feeling. Writing about it is what makes life meaningful these days. And yes, I make youtube videos too.
See them here: https://youtube.com/c/DeepakKarki
What did you like about attending school in the hill country?
I liked how peaceful the place was! The students and teachers were like one big family. I never felt alone. It was a second home to me.
Tell us what you like about living in the city?
It's a happening place. So many people around to get inspired from and so many exciting ideas to pursue. In short, city life is good for creativity and realizing one's artistic dreams.
What do you like to do in your spare time?
I like playing ukulele and reading poetry books. Most importantly singing and entertaining my roommates.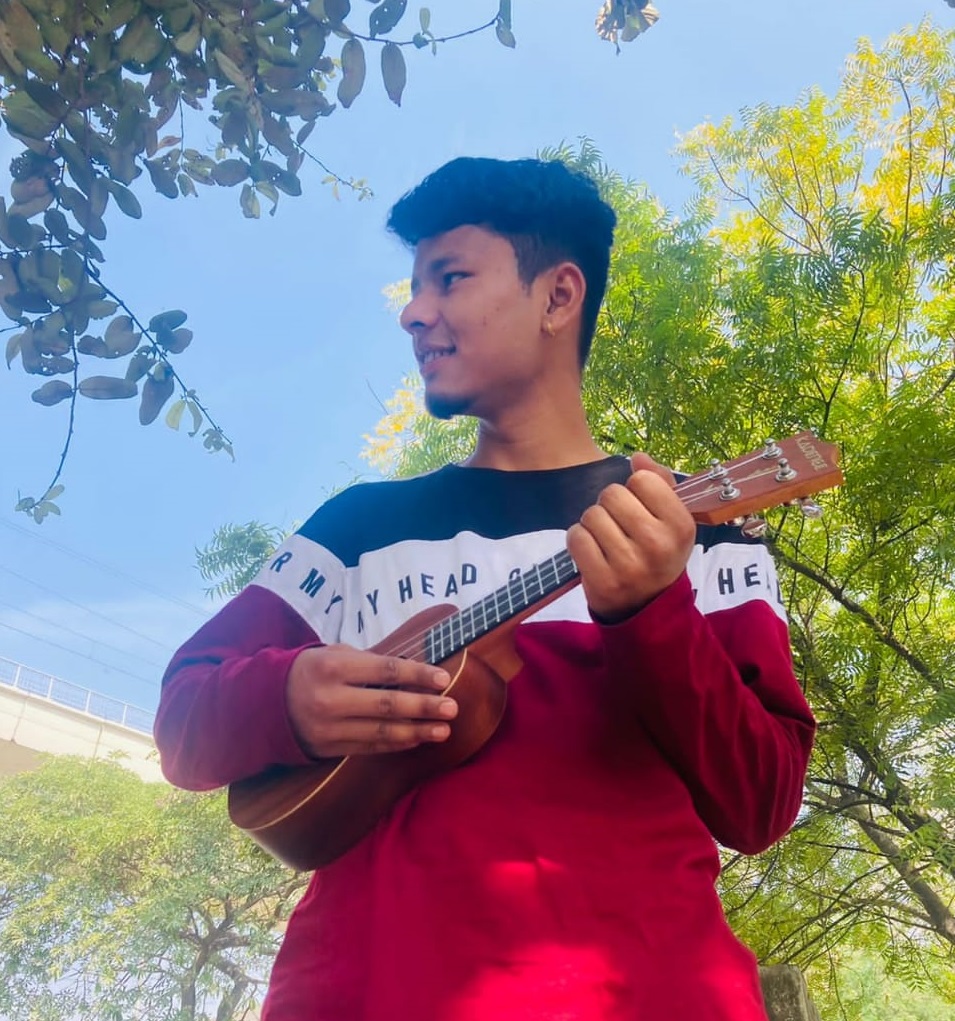 Who are your favorite musicians?
I like a lot of musicians. AR Rahman is on top.
What books do you read? What are your favorite books and writers? Or movies/ documentaries?
I like poetry books a lot. Rupi Kaur, Atticus Poetry and Geet Chaturvedi are some of the poets whose work I like most.
My favourite books are: Sapiens by Yuval Harari, The Alchemist by Paulo Coelho, The Room on the Roof by Ruskin Bond and Nyoontam Main by Geet Chaturvedi.
I like thrillers and suspense movies. The film "Drishyam" is one among them.
Do you travel? Let's know the places you have been. And what you liked.
I don't like traveling much. Though I've been to a few places like Mathura, Mumbai, Agra, Jaisalmer etc, I always love the return journey to my home in the mountains.
What are the challenges faced by the hill communities?
Something that I never liked about my hometown was the condition of the roads. Surprisingly, it is the story of every village in Uttarakhand.
Migration of people outward left our beautiful hill region full of deserted houses, waste lands and ghost villages. I sincerely wish someday migration really stops and our villages prosper and become lively.
What is needed in your village that would better the lives of people staying there?
First and foremost, good road connectivity, well staffed hospitals and schools would help our village thrive. We have to stop people from migrating to urban centers by providing basic amenities as well as opportunities for generating income.
Equally important, we must preserve our rich language and culture. We must create awareness among the youth about our heritage by supporting the arts and celebrating together during festivals. And certainly villagers should be proud of the time tested ways of living in harmony with nature.
How would you like to contribute to the betterment of your native place?
By simply being true to my roots.
What is your favorite memory of HIC?
One lunch box and five hands in it! I mean everything is shared. And "one for all and all for one" philosophy.
What advice would you give the current HIC students?
Keep in mind, it's not necessary that you be good at the same thing that the student at the next desk is good at! At this age, we often confuse ourselves with competing and overtaking others. Some are good at math, some write nice poetry, some are good at storytelling and the list goes on but always remember- all of us are good at trying. So, try your best. Study hard and do what makes you happy.
How would you like to help the future students of HIC in their academic and non academic pursuits?
By being their "Google Maps" when they are going to navigate through life.
Finally any one of your poems that you want to share with us?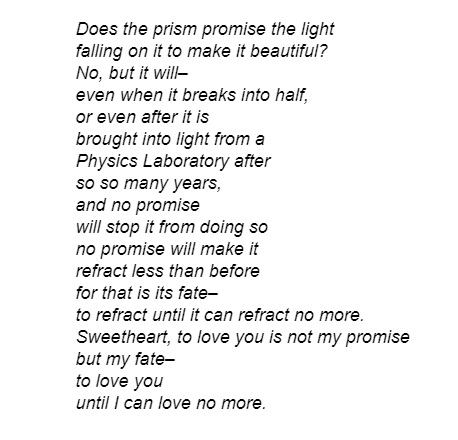 How can we know more about you and your work?
YouTube and Facebook (Deepak Karki); Instagram ( @awriterfromhills )
Email: dpkkarki77@gmail.com
Phone No. 9690294292
Thank you, Deepak. We at HEF wish you great success in your life and artistic endeavours.
Here is Deepak presenting his favourite song. Enjoy!