Himalayan Naari

Mountain women using their traditional skills to build economic independence.

Women in the Himalayas have a long tradition of knitting and weaving beautiful clothing and blankets for their homes. Because of their remote location, lack of capital and business experience, as well as transportation and communication obstacles, they were unable to use these skills to develop sustainable incomes.
Himalayan Education Foundation has been a critical partner in bridging this divide by providing startup funds, design, marketing, sales and business development support. Since 2013, in partnership with HEF, over 100 artisans have united to improve their livelihood and the quality of their lives through a dynamic self-help group named Himalayan Naari. It provides access to the international market for their products.
The women in Chakouri knit exquisite hats, scarves, shawls and throws.  Artisans from Maati, a sister group in Munsiyari, work with fine merino wool and angora/wool blend, weaving beautiful scarves and shawls. Under the guidance of Dr. Kathleen Bollerud, HEF board member and project director for Naari, they are designing, making and bringing their creations to a wider market. Now the group members are able to augment their family income and become economically empowered.
In 2020, Himalayan Naari, with support from HEF, opened an on-line retail store to sell their crafts in the U.S. You can support the Naari women by purchasing their products and spreading the word about their wonderful work.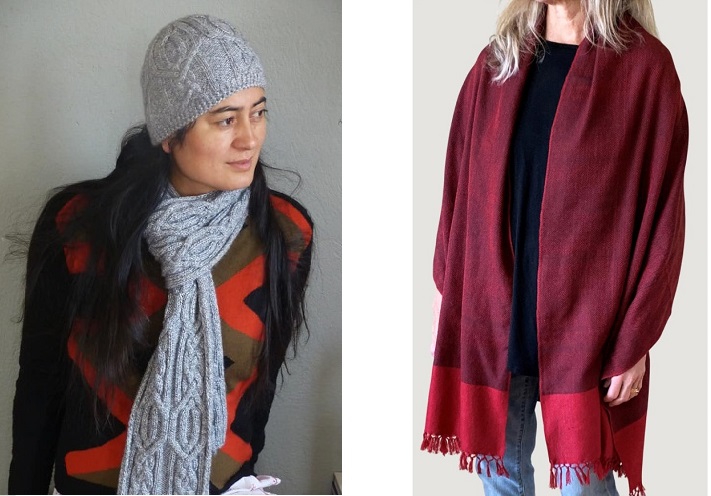 The components of Himalayan Naari's success: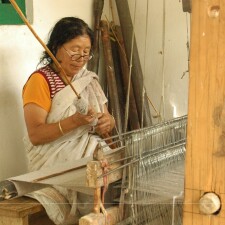 Traditional Artistry
For centuries women in the Himalayas have been making warm, woolen clothing to cope with the cold, mountainous climate of their homes.
The artisans of Naari, having been raised in this wool-working tradition, learned spinning, knitting, dyeing and weaving from their mothers. Now they are sharing these skills with the world.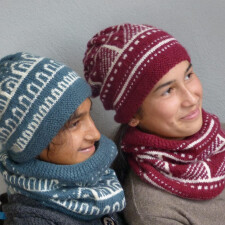 World Class Design
Naari knitters have partnered with Norah Gaughan, the internationally renowned knitwear designer and editor of Vogue Knitting. Together, they have transformed the indigenous Aipan art of the region into creative, exciting designs. Maati weavers are bringing vibrant hand-dyed new colors to their traditional patterns  bridging the traditional with a dynamic new fashion sensibility.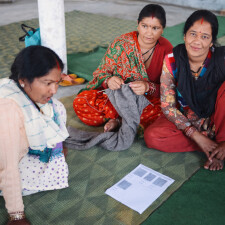 Local Leadership
The strong local leadership teams led by Mamta Takuli in Chakouri and Basanti Rawat  and Bina Nitwal in Munsiyari, were able to supply products to double sales in 2019, for the third year in a row.  In 2020, they have brought their artisans through the Covid-19 crisis, allowing them to earn income at a time when much of the country has been struggling
Photos by Deepthi Asthana and Mamta Takuli
Himalayan Naari – Knitting Lives, Changing World