Greetings!
We wanted to update you on the school and the communities that HEF supports in the Indian Himalayas. We continue our support for the women and girls in Chaukori and Munsiyari regions in many ways.
Himalaya Public School – CHAUKORI
School is back in session for the new academic year. Our local contacts tell us that there is strong support from the community for the school. The parents and community see HPS as the best option for good education for the children.Twenty-five students graduated in May. Demonstrating HPS' academic excellence they achieved great results on their state exams. Seventeen of 25 12th graders and forty-six of 51 10th graders received "First Class" in Board Exams. We are very proud of them! We remain deeply committed to the community and helping the school become an even better and safer place.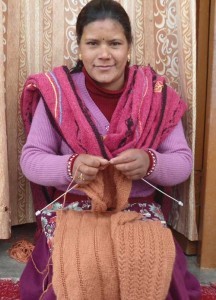 Himalayan Naari
With assistance from HEF, local women of Chaukori have organized a collaborative called
Himalayan Naari ("The Himalayan Woman") to generate income through selling their beautiful hand-knit and woven goods. A Women's Community Center has been opened where they can work and learn together. We are acquiring looms, yarn spinning machines, a sewing machine and a computer. The women will be preparing hats, scarves and shawls to sell in the US during the next Christmas season. Keep us on your shopping lists! Click to learn more about the Himalayan Naari.
Eco-Tourism
Eco-tourism is one of the most powerful ways these mountain communities can attain economic stability.
Uttrakhand is a world-class destination for bird lovers and trekkers. In spite of the amazing natural resources in the mountains, tourism is under-developed. To help build capability, each year HEF sponsors local adults and high school students to attend a professional Outdoor Leadership Certification course. Topics range from ropes and gear, to environmental and cultural awareness, risk assessment and decision making. This year HEF is helping to create an Outdoor Leadership program as part of the curriculum at the Himalaya Public School. We are also helping to set up a Homestay business in Chaukori as yet another means of income generation.
Thirty children and 50 adults have also participated in a Bird Festival and guide training arranged by our partner Himalayan Ark in Munsiyari – some of who were sponsored by HEF. These efforts have been very successful and are preparing a cadre of local guides.