We are delighted to introduce Pramesh Tamta, who is currently pursuing a PhD in Astrophysics while working as an assistant professor in Physics at Soban Singh Jeena University, Almora in Uttarakhand. He is an alumnus of Himalayan Inter College (HIC), Chaukori.
Welcome to Himalayan Vaani, Pramesh. Congratulations on enrolling for the doctorate program. Can you tell us about your family background?
Thank you. I am from Berinag, a small town near Chaukori. My father is at present the principal of Government Inter College, Lodhiya in Almora. My mother is a homemaker. I have an older brother.
Please tell us about your education journey.
I studied 9th to 12th classes in HIC and passed in 2012. Then I did a Bachelor of Science degree in Physics, Chemistry and Maths from Government Post Graduate College in Berinag and a masters degree in Physics from Govind Ballabh Pant University of Agriculture and Technology in Pantnagar.
Interesting. When did you start your doctoral program and where? What is your research about? What are neutron stars?
In 2018, I enrolled for a PhD program in Kumaun university, Nainital, Uttarakhand.
My research work is about modelling compact stars like neutron stars.
What are neutron stars? Please explain.
Neutron stars are the remnants of giant stars that died in a massive explosion known as a supernova. After such an outburst, the cores of these former stars compact into an ultradense object with the mass of the sun packed into a ball the size of a city. The physics of such objects is mind boggling, to say the least.
(Source: https://chandra.harvard.edu/photo/2017/crab/)
Wonderful! How did you get interested in astronomy in the first place?
From my childhood I have been interested in stars and the universe. To continue that passion I joined an Astrophysics course.
I was lucky to meet a few people who encouraged me to pursue my interests. One such memorable person is "Dadoo". When I was in 9th standard at HIC, I met him and he patiently answered my questions related to science and technology. He provided educational material on these topics and encouraged me to take up science in higher studies.
Recently, I got in touch with Dadoo and he is really happy that I am doing a PhD in astrophysics. As always, he keeps sending me youtube links and blogs related to astronomy. I am really grateful to him for his interest and faith in me.
That's nice. Tell us more about why you chose the specific research topic you are currently working on? Who inspired you?  
My work is in theoretical Astrophysics modelling the dynamics of dense and collapsed stars. My Advisor Dr. Pratibha Fuloria, Assistant Professor in Astrophysics has been a source of inspiration and motivation throughout my research.
What did you work on previously? Any publications?
Mostly it's on the formation and dynamics of stars. I have published three papers as the first author in journals like New Astronomy, Indian Journal of Physics, and Physica Scripta.
They are available online here:
https://scholar.google.com/citations?user=4wfnWZMAAAAJ&hl=en
What do you want to do after completing your PhD? Your dreams of a postdoc career?
I would like to go for a PostDoc fellowship in Princeton University, New Jersey, USA.
What are you currently teaching?
I teach physics for both graduate and postgraduate students at the institution.
What do you do in your free time? ( hobbies, favourite authors, books and movies that inspire you etc.)
Research and teaching occupies most of my time. These days, I write my thesis in my free time!
My hobbies include playing guitar and trekking. I play cricket.
I love reading books by Albert Einstein and Jayant Narlikar, who are my favourite scientists.
Lewis Ryder's book- Introduction to general relativity is what I find most interesting to read and think about. "Theory of Everything" is a brilliantly made movie that I admire much and it's emotionally satisfying and intellectually stimulating too.
How do you recommend cultivating scientific curiosity in young students? What needs to be done other than teaching the subject from textbooks?
Students should develop the spirit of inquiry and questioning. The sense of wonder and awe towards nature must be inculcated in the kids right from their childhood. The role of parents and teachers is very important in shaping the young minds.
In schools, guest talks by scientists can motivate and enhance curiosity among students. And teaching science using multimedia and laboratory demonstration of concepts can make learning fun and interesting. Project based learning and participation in science fairs could expand the students' minds.
What are the career prospects for the younger generation who want to study astronomy?
Teaching and research are always the best options. This is an exciting time to be an astronomer. With the current space technologies and advanced telescopes and instrumentation, our knowledge of the cosmos is ever increasing. There are new discoveries that are changing our understanding of the universe.
For interested students, summer and winter schools are available to learn more.
What are the challenges for the current education system? What are your thoughts?
School curriculum is more or less theoretical in orientation. Applied courses must be included in our schools so that one can find a job of their interest and potential.
Any favourite memories of HIC, Chaukori? How did you enjoy your academic and hostel life at HIC?
Each day was the best day of my life. I miss my hostel days and the routine from the wake up bell to sleeping time.
Your advice to the current students of HIC?
Discover and cultivate the potential you have and Do what you love with the whole heart.
How to contact you and know more about yourself?
p_tamta_(Instagram)
Pramesh Tamta (Facebook)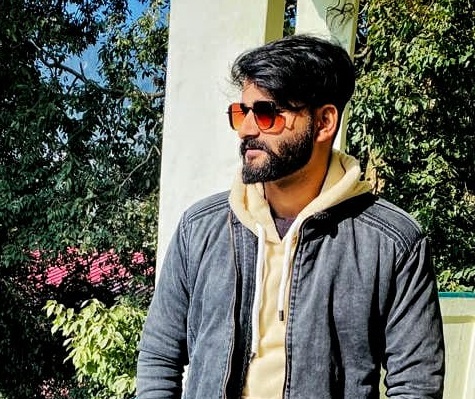 Thank you, Pramesh for sharing your inspirational life journey. We at Himalayan Education Foundation wish you great success in your studies and may all your life dreams come true.
————–