In 2012 smartphones had not yet infiltrated every aspect of life in the remote Himalayan village of Chaukori. The Internet was yet to make its presence for the local people. There was a scent in the air that the world wide web would be a revolutionary technology that would change people's lives forever. Mobile phones were less ubiquitous than they are today in 2022. With communication infrastructure lacking in the hill country, one had to make a trip to the nearest town Berinag, 15 km away, to access the internet at a single cybercafe.
In the rest of the world, smartphones and high speed internet connectivity were beginning to  change how people lived their daily lives. It's in this milieu that the Himalayan Education Foundation (HEF) was wondering how best to provide the benefits of the internet for the students and teachers at Himalayan Inter College (HIC).  The students and teachers had rarely seen a computer, let alone had access to using one. 
There was news that the government telecom company BSNL had launched a new service called WiMax. It's a wireless means to access the internet through a receiver antenna and modem. Although it's expensive, HIC and HEF decided to establish such a facility for providing training to the staff and students in basic computer skills along with internet access. With funds provided by a generous donor, a Gujarat based firm came forward to install the systems and operationalize the lab. For its part, HIC had set up a room with necessary furniture and electricity connections. So in May 2012, the computer lab at HIC opened its doors to students and staff, effectively connecting them with the larger digital world.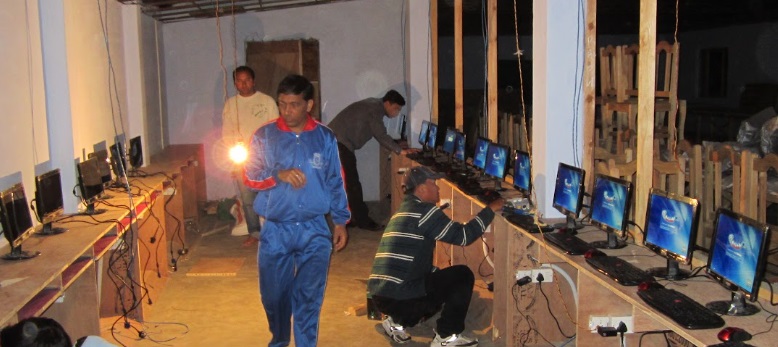 Perceiving the need for computer skills in this increasingly interconnected digital  world, HIC incorporated them in the students' curriculum. Each class gets two hours of lab access per week. From Class 1 to class 5, it's the basics, familiarization with various input and output devices, typing, drawing etc. The higher class students learn Word processor, Powerpoint presentation, spreadsheets and graphics. The commerce stream intermediate level students work on "Telly", an accounting software at the lab.
Managing the facility is Jagdeesh Khati, who has been in charge of the lab since its beginning. He has MSc in Math and a Postgraduate degree in Computer applications (PGDCA). Currently he instructs the students in computer skills. He hails from Kwerali, a small village near Chaukori.
"We installed a server database containing educational tools such as Khan academy, TED talks, Wikipedia etc. for offline usage. Initially we provided the internet facility to the students and staff at our lab. As the smartphones took over the world, we now provide training in only computer skills at the facility", he explained.
Reflecting on his association with the lab, Jagdeesh says, "Ten years back, very few students had any idea about how to use computers. Thanks to the lab, now every student is at ease handling the systems. These skills are essential in the world we live in."
"I am proud to be part of this initiative. And it's satisfying to know thousands of students acquired computer skills in our facility, which are helping them in their lives. Some students have gone on to study courses such as Masters in Computer Applications (MCA) and Multimedia and Graphic design. They were inspired to pursue these careers while they were learning the basics in our lab. I am happy about that."
In 2014, the local women of Chaukori formed a self help group called Himalayan Naari and started their handmade woolens business.They needed basic competency in computers in order to handle their start up. Himalayan Inter College, with a vision to reach out to the community and help them thrive, extended the lab facility to the women. With funding from Naari, the members could obtain the necessary knowledge in using computers. This is tremendously helpful in their business. Now they are able to work with the designs on their smartphones, manage both the inventory and the supply chain and effectively communicate with their business clients.
"Thanks to the support of HEF, which made possible digital literacy and computer skills training for both students and local women, the overall quality of life has improved in the community. HEF created better economic opportunities for them as well", informs Prakash Karki, administrator at HIC.
Revealing his plans for the future, he says, "In fact, we would like to start a training facility in our computer lab, where enthusiastic students could learn programming languages and develop application software. As a hobby at school, of course, but, who knows they could be the next generation programmers and budding software designers. We are in touch with our alumni, who are working in the IT sector. They are interested in helping HIC in this initiative."
The computer lab at HIC is facilitating future change makers and responding to the changing times. A small initiative by HEF in 2012, a decade on, is still making a positive impact on the careers of thousands of students and in turn on the local communities. Shaping their thoughts and dreams for a better tomorrow.
HEF expresses its gratitude to all those involved in establishing the computer lab and wishes well the staff and students using the facility in achieving greater heights in their careers and life as well.