Hello!
Yesterday evening we had our weekly Naari meeting, which are always the highlight of our week. After each meeting we walk away elated and energized by all of the amazing women. The level of happiness and contentment the women continuously exude, despite the various hardships many of them face at home, is something we did not encounter until moving here. Their spirits inspire us to tackle life in a similar manner.  
During this week's meeting we discussed several topics including upcoming orders, overall Naari goals, new stitch names, and website progress! As we sat on a decorated mat chatting with the women their needles did not stop moving; throughout all of our discussions they work endlessly to make items for both Naari and the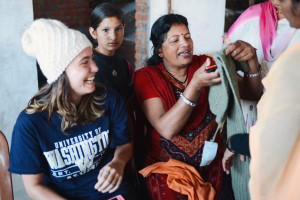 ir own families. At the moment there are 15 artisans working on couch throws for a Shared Trade order. The beautiful gray items were strewn across the women's shoulders as they entered the room and carefully set in their laps as they continued to knit through our meeting.  The beauty of these throws was absolutely mesmerizing and we caught our gazes returning to the delicate details as we talked with the women. They were significantly more beautiful than we could have ever imagined. Soon enough the women noticed our wandering eyes and spread out their projects proudly as they began to explain how hard they have been working for the order. After the couch throws were admired other knitted goods were put on display as well. Many of the women were in the middle of sweaters, vests, caps, or scarves for their children who attend HIC.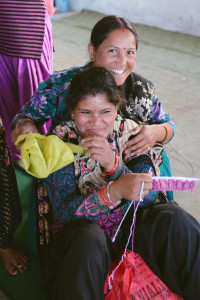 The community of Naari is wonderful and the group provides both support and opportunities to many of the mothers of children attending Himalaya Inter College (HIC) – a K-12 school that HEF supports. At this meeting we noticed for the first time how some of the women see their work with Naari as strictly business. After the new Naari Women's Center opens we hope to strengthen the friendships and social networks that presently exist in Chaukori. Due to the migratory lives of many HIC families, most women live in rented rooms away from their home villages in order to allow their children to attend HIC. We hope the women will find support in
Naari while they are away from their home villages. As we spend more and more time with Naari our hopes and dreams for the future only expand!
All our best

Danielle & Amanda